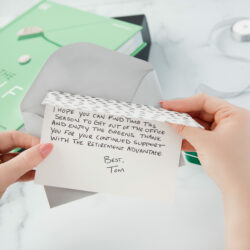 How Did Client Porter Begin?
What's the Story Behind Client Porter?
Client Porter started on an ordinary Saturday morning, where two daughters came home to visit their dad. While sitting around the kitchen table drinking tea, Dad told his daughters about his recent meeting with a financial advisor. He stood up to grab a package sent by the financial advisor: gourmet coffee, a branded pen, and a folder.
Well, Dad immediately threw the pen and folder in the trash, as he has an office full of supplies. And, since he's an avid tea drinker, he put the coffee into the back of the cabinet. In other words, this package did nothing to leave him feeling special. Which was when his daughters looked at each other and had their "AHA" moment.
Why was Client Porter Started?
Client Porter was born so you can make your clients feel special. We specialize in delighting your clients with personalized messages, world class gifts and amazing experiences.
Handwritten cards, milestone celebrations, and personalized gifts throughout the year show your clients that they are at the top of your mind. When they receive thoughtful communication from you, it helps you stand out from all of the competition.
When you choose Client Porter you get a team of experts focused on strengthening your relationships with your clients and their families. We'll take care of everything, so that you and your team don't have to.
Why Choose Client Porter?
Let us do all of the work. We make it easy by researching each client or prospect, and creating thoughtful, well-crafted gifts based on their preferences, hobbies, and personalities. 
The best part is you get all the credit. The gift looks like it comes directly from you, with a handwritten card that commands attention, triggering both psychological and emotional responses in the recipients. 
Ready to delight and create memorable connections with your prospects and clients? Get started today.